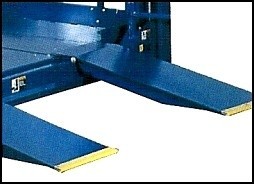 ---
Notes:

Residential delivery extra.
You will be contacted with shipping charges.
Local Sales Tax Will Apply

Warranty:

1 Year

Description:

Auto Lift Accessory, Extended Ramp Chock Kit, For Model SM180 Lift

Extended Ramp Chock Kit For Model SM18.
Ramps Have An Oil Resistant, Non-Skid Coating.
6 1/2" Longer Ramp Length Than Standard To Reduce Ramp Up Angle For Passenger Cars With Low Ground Clearance.
($50 Adder Only When Substituted For Standard Length Ramps On New Lift Order.) Includes Two (2) S110085 Ramps and Hinge Pins.