View all UView Dye Injectors & Kits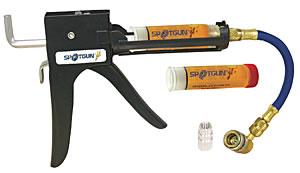 ---
Warranty:

Call for Details

Description:

For those who already have a light and want a
Professional injection system that offers speed and accuracy.
Kit inlcudes:
• Spotgun Jr. injection gun with R-12 and R-134a adapters.
• (2) Universal A/C dye cartridges (10 applications).
• SAE-J2297 certified & OEM approved dye
• Service Stickers.