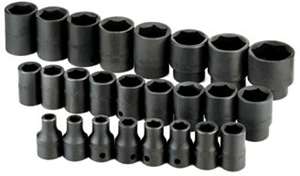 ---
Notes:

Stock is limited due to Manufacturing issues

Warranty:

Call for Details

Description:

25 piece set is 100% made in the U.S.A., featuring SK's patented SureGrip hex design, which drives the side of the hex, not the corner. Unique nose-down design provides for improved access to hard-to-reach fasteners. Improved coating for better rust resistance.
Set Contents: 8mm, 9mm, 10mm, 11mm, 12mm, 13mm, 14mm, 15mm, 16mm, 17mm, 18mm, 19mm, 20mm, 21mm, 22mm, 23mm, 24mm, 25mm, 26mm, 27mm, 28mm, 29mm, 30mm, 32mm, 36mm Sockets. Packaged on rails.