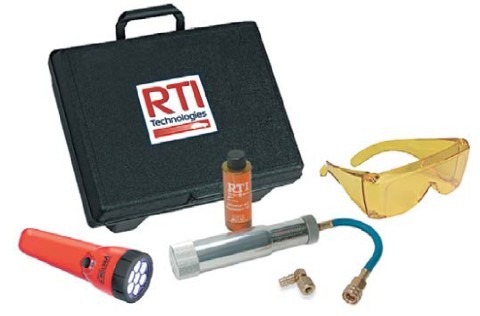 ---
Notes:

$50.00 Minimum Order on RTI items

Warranty:

Description:

Elite UV Leak Detection Kit
A complete package with cordless advantage.

LED UV Light-Cordless
2 oz. Refillable Injector
4 oz. Super Bright Dye
Fast Charger
"Dye Installed" Decals
UV Enhancing Glasses
Storage Case

Designed with the professional in mind by utilizing the most current technology in UV leak detection available today. LED style light provides plenty of light for any leak detection application and provides the cordless advantage with re-chargeable battery design. Premium 2 oz. refillable injector is not only fast and easy but the most economical way to add dye to an A/C system. No proprietary cartridges are necessary. Simply attach to the low side service port and with a couple quick turns, 1/4 oz. is accurately dispensed. All of our A/C dyes are R12 and R134a compatible.