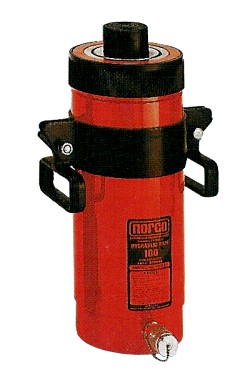 ---
Notes:

Residential delivery extra.
You will be contacted with shipping charges.

Warranty:

Description:

Ram, 100 Ton, 10-1/4 in. Stroke

High flow quick connecting coupler and dust cap included on all models.
Unique ram and cylinder bearings absorb eccentric load stresses in order to protect the cylinder against abrasion, over-extending and jamming.
Nickel plating on most ram pistons inhibits rusting.
Baked enamel exterior finish for increased corrosion resistance.
Polyurethane seals and wipers provide high cycle life.
Heavy duty return springs provide consistent performance.
Rams comply with ANSI B 30.1.