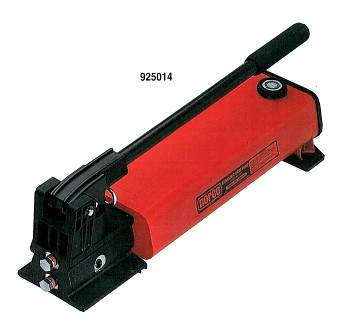 ---
Warranty:

Description:

Hand Pump, 2 Speed, 4-Way Valve, 400 PSI, 10,000 PSI, 155 cu in.

Same as for the steel hand pumps but with the following additions.

Durable glass-filled nylon reservoir and nylon encapsulated aluminum pump base for maximum corrosion resistance and lightweight handling.
Two-speed pump operation on models 920511 and 925014 reduces handle strokes by as much as 78% over single speed pumps.
Integral 4-way valve on the model 925014 for operation of double-acting cylinders.
Handle lock for easy carrying.
Non-conductive fiberglass handle for operator safety.