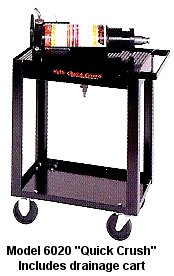 ---
Notes:

$60.00 Minimum Order of Huth Bender products

Warranty:

Description:

Huth's Quick-Crush Oil Filter Crusher
Model 6020
Use on your Huth Pipe Benders or 1973 Swager/Expander.
Quick and easy setup and operation.
Huth's new Quick-Crush Oil Filter Crusher (Part No. 6020) allows you to quickly and easily crush oil filters to a fraction of their original size while allowing you to reclaim the dirty oil for proper disposal.
The Quick-Crush attaches to any Huth Bender swager box or Model 1973 Swager/Expander using 890 or 891 collet holders.
The Quick Crush comes with its own cart that directs the reclaimed oil into your 5-gallon bucket. The cart doubles as a storage rack for the filters. When the Quick Crush is not attached to your bender, the cart makes a handy storage tray.
Requires part no. 818 Quick Trick holder.